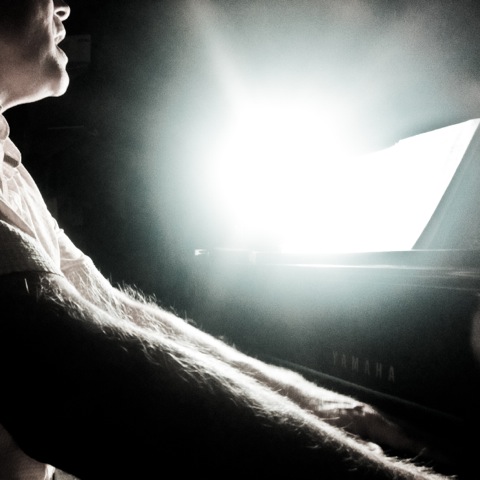 I began my professional musical life in the 1980's as a modern classical composer, which led to the creation of many works, and international acclaim from musical artists and organizations. My own skills as a singer and performer began to be equally important to me, moving away from concert music, into the realm of electronics, and relocating to Paris in the 1990's in order to work and study in the studios of pioneer composer Iannis Xenakis.
Melding the skills of classical, improvisation, electronics, digital recording and my own performance capabilities, I began to forge a new direction. I had by then been working on what I call the noncooperative ensemble, a poly-temporal music in which performers and musical tracks exist in their own time, breaking with the constraints of tempo, meter, verticality and tonality. All of this came to fruition in the studio, where I began to make recordings, drawing from broad sources of sound and music.
Since 2009, my creative energy has been centered on producing albums which are largely unclassifiable: going beyond cultural genres with banjo, koto, mbira, and heavy metal music in Beyond, creating the piano music of a 21st century Chopin in Stile Brillante, post Chopin, imagining the music of lost cultures in Music of the Ancient Lost or Forgotten, moving around the equator following bird species in Equatorial, complex piano music using the rhythms of nature in Natura, imagining every way that a string can be played in String, multiplying the sound of the piano in Piano Forte Piano, redefining the expressions of jazz in Double Jazz, environmental activism through electronics in Stasis, performing settings of Jack London's prose for the Jack London Museum in Ron Fein Sings Jack London, exploring the form of the Indian raga in Ocean Ragas, constructing an album around the U.S. National Park Service sound archive in Anima.
The Experimental Troubadour is a treatise on a new direction for music that embraces technology and the resources available to composers. It is also an outline for the direction I have taken. The albums on this site are all reflections of this approach to music. I hope you enjoy listening to them.
CD Release of Stile Brillante, post Chopin
Imagining a 21st century Chopin
October, 2022
Ron Fein has toured internationally with his music installation works, to critical acclaim. He has lived and created new work in Paris at the CCMIX studios, one of the foremost music composition and research facilities, begun by composer Iannis Xenakis. He is Director emeritus of the Washington Composers Forum in Seattle, where he worked extensively to support the creations of Northwest and international composers, and was a featured lecturer for the Seattle Symphony and the University of Washington. As a journalist he has written music commentary for the Washington Post, Library of Congress and Independent Journal. His work in this area has chronicled many significant world premieres, radio broadcasts, and the advocacy of contemporary music.
He has devoted much of his creative life to what he has termed the noncooperative ensemble. He introduced this work in 1986 with the issue of the album "Music for Noncooperative Ensembles" on the Euphonic label, featuring instrumentalists of the San Francisco Symphony and soprano Judith Bettina. This music reflects the way that sound occurs in the natural world, by obscuring verticality yet maintaining strong compositional structure.
Formal musical studies in composition and theory were done at California Institute of the Arts, Dominican College, San Francisco State University, and the San Francisco Conservatory of Music. His teachers have been Morton Subotnik, Earle Brown, Jules Langert, Leonard Stein and William Hibbard.